With Punxsutawney Phil (that notorious winter forecaster) fully seeing his shadow this year, we expect March to come roaring in like the lion it is known to be.  Never fear!  Greenville has plenty to do inside to keep you warm, dry, and well entertained.  And of course, as the weather warms up there is always lots to see and do while you are walking around town or hiking the many trails and parks in the upstate.
Food and Drink
When thinking of food and drink in downtown Greenville, we can't help but bring up one restaurant that combines the two so beautifully.  Northampton Wine + Dine has been serving Greenville for over 20 years, offering wine tastings and events and then pairing those amazing pours with a delectable menu you can enjoy in their intimate dining room.  You can browse in their wine shop to take home your own bottle, gourmet cheeses, or some of their incredible Riedel Crystal.  Wine always tastes better in something pretty.  Located at 211 A East Broad Street, (they have their own parking lot!) they are less than half a mile from the Bed and Breakfast.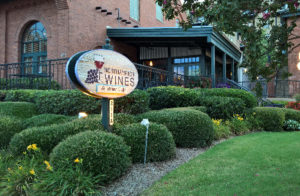 Weren't able to snag tickets to any of those basketball games that March brings?  Well, we know just the place to relax and enjoy the game with a tasty craft beer, cocktail, and munchies! Yee-Haw Brewing Co. is an easy walk from the Inn, and their taproom was recently renovated to include a beer garden, large screen TV, and Prince's Hot Chicken.  This location of the brewery is nicknamed their "innovation lab" because they often test new flavors and beer recipes. Yee-Haw Brewing Co. is located at 307 East McBee Ave, Suite C
The best stories are told with food…says the fine people at The Cook's Station and we couldn't agree more.  This innovative Greenville destination was made for anyone that has a passion for food.  Enjoy eating in their café, browsing their incredible selection of must-have kitchen gadgets and cookware, or take a class for fun! They offer different classes each week and some of the classes in March include: Classic French, A Taste of Jamaica, a 4-course wine dinner with Mission Grape, a St. Patty's Beer Flight, and small bites on the patio, I will be happy to meet you at Cheesy Soups & Stews.  Anyone with a passion for cooking ( or eating ) will love the offerings in décor and food.
Looking for a cup o' joe to warm you up?  Why not go on The Greenville Coffee Tour, where you can learn about Greenville's local roasters and our favorite coffee shops?  Fodor's Travel recently listed Greenville as one of the top 10 best American Cities for coffee – look out Seattle!  On this 1.5 hour tour, you will visit three coffee shops, and sample unique tastings at each, while learning where the coffee is grown, produced and roasted.  And, did I mention that while driving to each location, you will also be entertained with a little history tour of Greenville?  Delicious java, some tasty treats, and a little knowledge to boot!  It's a great way to spend a blustery Saturday morning. Call (864) 567-3940, or click the link above for more information.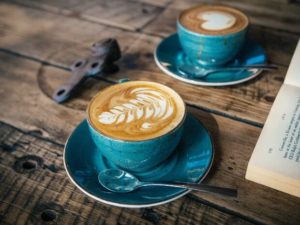 Greenville has an active event schedule, offering something for everyone, that updates often.  Here we've listed a few events of interest for each week, but feel free to visit the city's visitors website where you can see a comprehensive listing by date, or event type of all things Greenville.  Just enter the dates of your visit to see everything happening on the days you will be in town.
Week 1 – Wednesday, March 1 – Sunday March 5th
February 28 – March 5,  The Peace Center's Broadway Series brings you Beetlejuice, the musical version of Tim Burton's beloved film. A fantasy horror set to music, the plot revolves around a recently deceased couple who, as ghosts haunting their former home, contact Beetlejuice, an obnoxious and devious "bio–exorcist" from the Netherworld, to scare away the house's new inhabitants.  Quirky and funny, it is sure to bring a smile and a laugh.
March 2 – 19,  The Greenville Theatre presents Big River, a 7-time Tony Award-winning musical, which brings to life the classic tale of Huckleberry Finn, his adventures with Tom Sawyer and Jim, as they navigate the great Mississippi, and the quest for true freedom.
BMW Zentrum and Plant Tours located at 1400 Highway 101 South, in Greer, SC, is about 20 minutes from Pettigru Place.  Here the past, present and future of BMW come together in a one-of-a-kind building. See the cars, the speed, the innovation–all for free in the only BMW museum in North America. This museum offers a cafe, a gallery and a history lesson–all wrapped into one ultimate experience.  Advance Reservations are required.  Visit the link above, or call 1-888-tourBMW (868-7269) for more information.
March 4 – June 18,  Through the Years: Kenny Rogers Photographs America, is a selection of photographs taken by Country music great, Kenny Rogers, who received an Honorary Master of Photography degree from the Professional Photographers of America in 2014.  In addition to the selection of 60 photographs, the exhibition will include artifacts and archival materials from Rogers' personal vault, providing a comprehensive look at Kenny Rogers' diverse artistic outlets.  The Upcountry History Museum is open Tuesday through Sunday weekly.
Week 2 – Monday, March 6 – Sunday, March 12
March 6:  Historic Neighborhoods & Architecture Tour  Presented by Greenville History Tours, this driving tour will take you through three of Greenville's most influential neighborhoods at the town's beginning, and see the variety of architectural styles, share insight into their role in Greenville's revitalization, and hear stories about their original owners.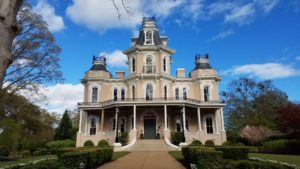 March 9 – April 2:  Singin' In the Rain, at Centre Stage – Each unforgettable scene from the movie is lovingly recreated here, including the show stopping title number, complete with an onstage rain storm!
March 9:  Come cheer on Greenville's professional hockey team, The Greenville Swamp Rabbits, as they take on the Jacksonville Icemen! The puck drops at 7:05pm.  The arena is only a 1 block, 5 minute walk from the Bed & Breakfast.
March 10 – April 2:  The Legend of Georgia McBride   Imagine, if you will, that an Elvis impersonator loses his job, and is forced to do a drag number in front of a rowdy bar without any training?  And then what if it turns out this Elvis impersonator is actually really good at being a drag queen?  And, then, what if he hides this new career from his very pregnant wife?  Hilarity ensues, that's what!  Come see this drag to riches story at Greenville's Warehouse Theater.
February 4 – May 7:  "The idea is not to live forever; it is to create something that will."  These words were spoken by the late Andy Warhol, whose innovative works are considered icons of Pop Art, and that's precisely what he did.  The Upcountry History Museum will be hosting an exhibit featuring 36 iconic masterworks by Warhol, dating from 1968 through his last series done in 1986. This once-in-a- lifetime exhibition includes a broad cross-section of examples from Warhol's storied career.  In addition, through April 30, the museum will also feature his Endangered Species, a series of ten oversized silkscreen prints, bringing to life the ten animals identified in the 1973 Endangered Species Act, and brought awareness and helped raise funds for the preservation of these animals, propelling the efforts of conservation forward. The museum is open Tuesday through Sunday, weekly.
March 9 – 11:  The Bob Jones University Fine Arts department presents Disney's Beauty and the Beast, the Broadway Musical.  Come see the magic behind the castle walls with show-stopping musical numbers, astonishing sets, lavish costumes and special effects of the musical that has been charming Broadway audiences for more than 10 years.
Week 3 – Monday, March 13 – Sunday, March 19
March 15: Hop on board for the Hump Day Getaway Tour from 2:30 – 6:00 on Wednesday afternoons!  The Brewery Experience is the only brew tour company in the state of South Carolina led by a Level 2 Certified Cicerone – that's the beer equivalent of a sommelier for wine. Let them guide you on a hoppy & educational journey to some of Greenville's most unique breweries.  This three stop tour is guaranteed to be a fun filled, informative glance into Greenville's booming craft beer scene, and, in addition to guided tours and tastings from brewery staff and owners, you will indulge in snacks and bottled water, plus a special gift and plenty of insider beer knowledge from your Brewery Experience guide to take home!  The Brewery Experience also offers other brew tours on Saturdays, just visit the above link for more information.
March 16: It's finally back!!  Downtown Alive, our favorite weekly after work event returns for the season this Thursday.  In NOMA Square from 5:30 – 8:30 weekly until the end of August, come enjoy this community gathering with live bands, food and beer trucks.  A great way to kick off each weekend!
March 18:  Country Music star, Kane Brown, will visit the Bon Secours Wellness Arena on his Drunk or Dreaming tour.
Week 4 – Monday, March 20 – Sunday, March 26
March 20, 22 and 24:  By now the worst of winter should be behind us, and the beautiful spring weather has us jumping at the chance to get back outside.  How better to get a little well deserved fresh air than on an electric bike, taking a tour on The Swamp Rabbit Trail of some of Greenville's best loved parks.  Reedy Rides offers tours on Monday, Wednesday, and Fridays.  The best part?  You end up at The Swamp Rabbit Cafe and Store for some tasty treats afterwards.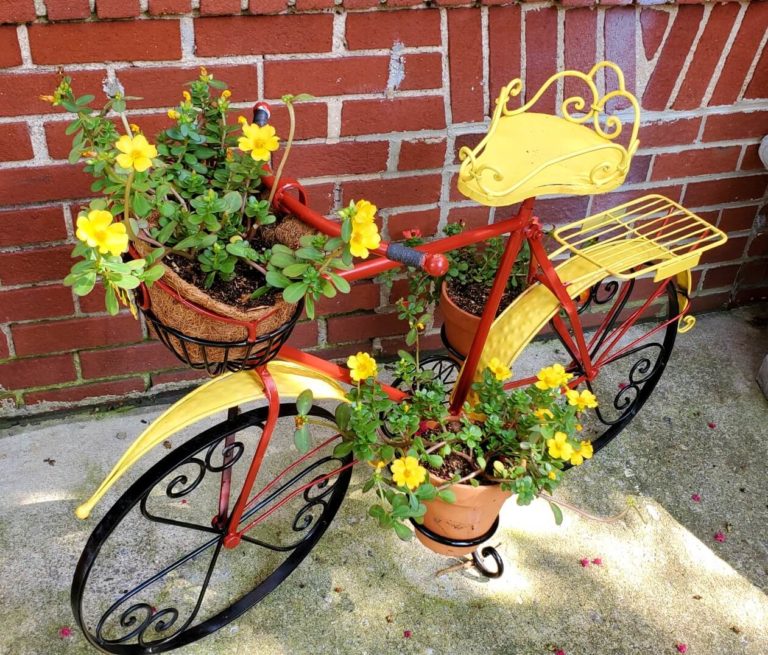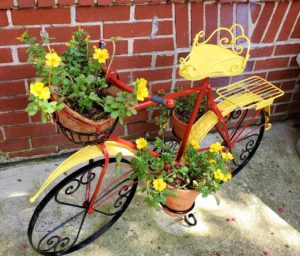 Weekly on Sundays and Mondays:  Join Greenville History Tours with a one hour walking tour of Greenville's West End district, encompassing historic Falls Park, and the surrounding area that tell both the story of Greenville's humble beginnings, and it's ever changing and growing future.  Mrs. Ida Bates Green is part of the Green Family that has been in the Greenville area since the late 1700's.
March 21:  Feel the reverberations of heaven and earth in harmony with this all-new performance from internationally renowned taiko Japanese drum ensemble, KODO, performing on the Peace Center stage.
Every Thursday You can head to Abanico Tapas Bar for a great Mediterranean meal (or light bites) and dancing with David Killinger.  Enjoy Lindy or West Coast Swing with group lessons or social dancing.
March 21 – 29:  Apples in Winter, at Centre Stage, tells the heart-breaking story of a mother who is asked to bake her son an apple pie, to serve as his last meal before being put to death for the murder of two teenagers.  As she bakes the pie onstage, she shares her conflicted story with the audience.   This is a drama about how we care for each other even when caring for each other does not come naturally, and the tragedies of addiction seem insurmountable.
Ongoing on Saturdays:  Get creative with one of the Master Chandlers at Greenville Soy Candle Company as your guide! Make your own soy candle creation by selecting your scent, color and candle name.  Book your spot at their weekly class here.
Week 5 – Monday, March 27 – Friday, March 31
March 25 – June 4:  Come to the Upcountry History Museum to view their newest exhibition, The Global Language of Headwear: Cultural Identity, Rites of Passage, and Spirituality.  This international exhibit explores the vital role of ceremonial headwear throughout diverse cultural customs, beliefs, and rituals and features approximately 89 pieces from 43 different countries in six different global regions.  The Museum is open to visit Tuesday through Sunday.
March 29:  Lunch and Lit with Colleen Oakley, brought to you by M.Judson Booksellers, who is excited to welcome Colleen Oakley back for her new book The Mostly True Story of Tanner & Louise.  Enjoy lunch at Soby's New South Cuisine and Colleen will be on hand to talk, answer questions, and sign copies of the new book.
March 30:  Come and laugh the night away with Taylor Tomlinson, as the Peace Center adds a second night to accompany her sold out show on Friday of this week.  Her brilliant writing and on point performance had the Washington Post calling her "your favorite quarantine-watch", and has landed this "whip-smart and spectacularly cynical" comedian on The Tonight Show with Jimmy Fallon, CBS Good Morining, Kelly Clarkson, and more.
March 9 – April 2:  Singin' In the Rain, at Centre Stage – Each unforgettable scene from the movie is lovingly recreated here, including the show stopping title number, complete with an onstage rain storm!
As always the Greenville fun does not disappoint and we would love to be a part of your end of Winter/beginning of Spring adventure.  Give us a call or click below for reservations.