I love May in Greenville.  The flower gardens are in full bloom, school is winding down, the weather here is beautiful and of course, May means that the strawberries are ripe and peaches will be here soon!  But, I think my favorite part of May in Greenville is the return of festivals, downtown music, and farmers' markets.
Food and Wine
The TD Saturday Market –  Saturday mornings from the beginning of May until the end of October, two blocks of Greenville's Main Street are transformed into a bustling farmers' market. The market features over 75 vendors selling the season's freshest produce and the area's most original and high-quality crafts.  Each week thousands of people flock to the TD Saturday Market for locally-sourced products where all food must be grown or produced within 100 miles of Greenville, and crafters are highly encouraged to use locally-sourced supplies. The Farmer's Market is a half-mile stroll from the Bed and Breakfast and is always a fun way to spend a Saturday morning.  If you really enjoy Farmers' Markets, you should also try to visit the ones in Travelers Rest and Greer, both also opening in May. In fact, the Greer market is held on Tuesday evenings, so you don't even have to get up early!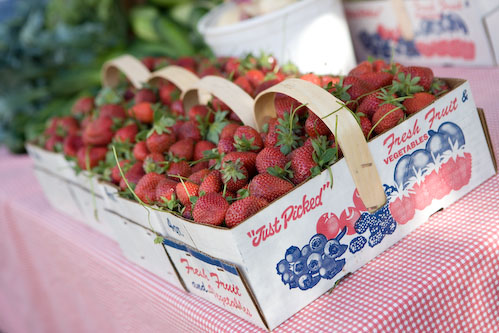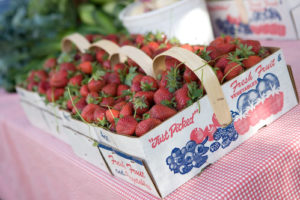 Victoria Valley Vineyards, located in the foothills near Table Rock is a little taste of Europe that offers a traditional wine tasting of their European Vinifera wines, and is sure to be enjoyed by any wine drinker from a novice to the connoisseur – no appointment needed!  Victoria Valley Vineyards offer group tours of the winery, a gift shop and wine accessories. Browse around, and have lunch on the terrace, which is open daily Thursday through Sunday. Barbecue sliders with a merlot barbecue sauce are only one of the tasty items on their menu.  I love anything with a good red wine reduction!  After a morning hiking around one of the beautiful parks in the upstate area it is the perfect place to stop for a snack.
Our restaurant of the month is Passerelle Bistro.   Passerelle, one of the nicest outdoor lunch spots in downtown Grenville, has a beautiful outdoor courtyard overlooking the Reedy River and Liberty Bridge. They have an eclectic menu with something to please everyone.  Try the Crispy Goat Cheese filo, with blueberry and lavender jam, candied walnuts and citrus gel.  They get very busy, so we suggest reservations – even for lunch!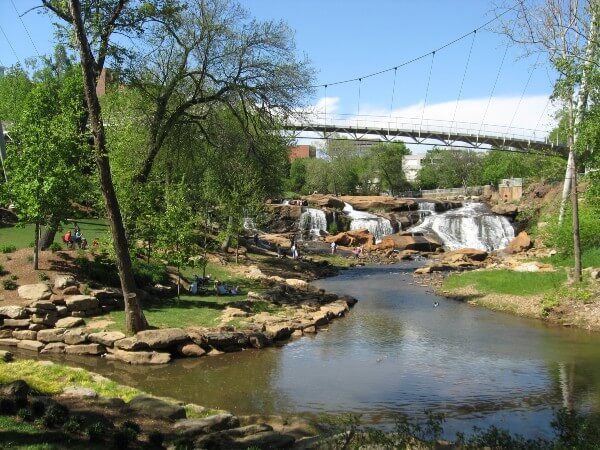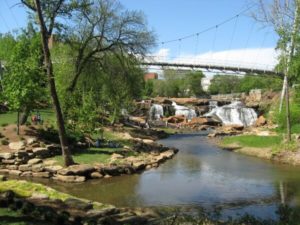 Looking for something special in Vegan Food?  Try the Blossoms and Berry Dinner at The Topsoil Supper Club on May 10th. Late Spring in the South means the arrival of the season's first juicy berries and edible blossoms of vivid colors! The Blossoms and Berries Dinner will feature edible flowers and berries in each course! They will begin with a welcome cocktail and starters, there will be live music by The Wilder Flower and a chance for guests to mingle and meet local growers and artists, and of course dinner. Their featured farmer will be Sarah DuBose of Sassafrass Flower Farm in Easley.
The community of Saint George Greek Orthodox Cathedral will celebrate their 37th Annual Greenville Greek Festival. May 19 – 21.  Enjoy tours of one of Greenville's oldest and most beautiful churches, while enjoying the best Greek food you will find, handmade with love, live music, and a traditional dance troupe performing throughout the weekend.  While the baklava is delicious, the gyros, pasta & pastry combination are an incredible treat and fun to try if you are not a Greek food expert.  The Greektown Grille restaurant is a short walk from the B&B if your plans bring you here at another time (the baklava sundae is one of the bests in town!).
As usual, though, there is always something more happening.  Below we've listed events that we think our guests will enjoy the most.  Make sure to check out this link to Greenville's Event Calendar to see what new events are added daily.
Music and Art
Monday, May 1 – Sunday, May 7
Wednesday, May 3 – Forks, Knives, & Spoonbills Conservation Dinner at Topsoil Restaurant in Travelers Rest. Join the South Carolina Wildlife Federation for a six-course, wine-paired conservation dinner featuring dishes inspired by imperiled bird species created by our Executive Chef, Adam Cooke. As each course is served, SCWF Industry Habitat Manager, Jay Keck, will share information about each species and the conservation efforts needed to help them thrive!
Friday, May 5th – Greenville's Metropolitan Arts Council presents First Fridays, a Greenville area art crawl.  Check out the website before you go to see highlights of the night and to map out which galleries you want to hit.
Friday, May 5th – Jocassee Lake Tours, Full Moon Rising Tour – Once a month, on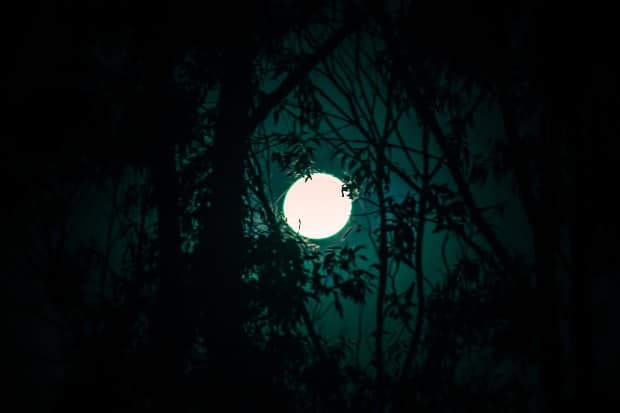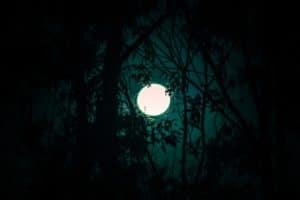 the evening of the rising of the full moon, join Jocassee Lake Tours for a tranquil, convivial three hours or so on the lake. You'll visit some waterfalls, wander up a wild river or two, then settle in for the rising of the full moon.  Speed range — dawdle to pokey…
Saturday, May 6th – The Reedy River Duck Derby will mark the 19th year of the Rotary Club's largest annual fundraiser, helping to support many of our community non-profit agencies, come to this free event at Fall's Park, ready to enjoy live music, face painting, balloon twisting, yard games, and food trucks. At 2:30 p.m. sharp, the bugler will call the race and we watch as 14,000 ducks race down the falls. For those that adopt ducks, there is a chance to win a million dollars, a first-place prize of a year of groceries from Publix, a second-place prize of $2,500 cash from the Rotary Club of the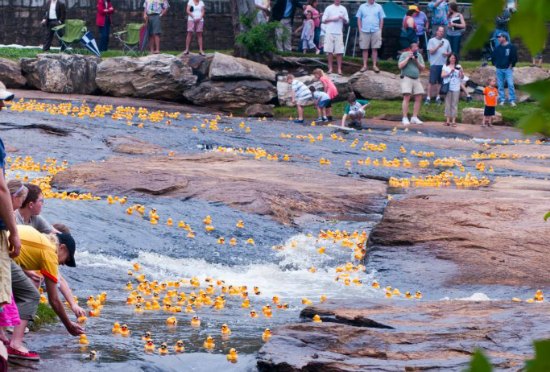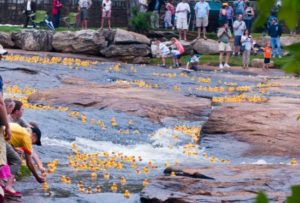 Reedy River Greenville, and many more prizes coming in.  Always a fantastic sight to see.  Click here for more information and to adopt your ducks!
BMW Zentrum and Plant Tours located at 1400 Highway 101 South, in Greer, SC, is about 20 minutes from Pettigru Place.  Here the past, present, and future of BMW come together in a one-of-a-kind building. See the cars, the speed, the innovation–all for free in the only BMW museum in North America. This museum offers a cafe, a gallery, and a history lesson–all wrapped into one ultimate experience.  Reservations are required.  Visit the link above, or call 1-888-tourBMW (868-7269) for more information.
May 8 – 14
May 8 – The Tasting Room in Travelers Rest – Sicilian Wine Tasting Event Come learn what makes Sicilian wines so unique and special.  The Tasting Room of Travelers Rest will be tasting these delicious wines and enjoying Italian food bites – a true foodie experience!
May 9th – Fiction Addiction is hosting a Lunch and Book Signing with Karen White, Tradd Street Series.   Join New York Times bestselling author Karen White for a book-your-lunch event at the Greenville Country Club on Tuesday, May 9th at Noon. Karen will give a talk on her book, The House on Prytania, (I love this series!), and will be available afterward to sign. Your $65 ticket admits one to the event and includes lunch, as well as a copy of The House on Prytania.  Tickets must be purchased in advance.
If you're unable to attend the event, signed books can be purchased on their website.
May 12-14th –   Stroll down to Main Street and "find your happy medium" at Artisphere, With over one hundred artists from all over the United States, you are sure to find that perfect piece that calls to your heart. Since its inauguration in 2003, Artisphere has grown into a centerpiece of Greenville's cultural calendar, has distinguished itself as one of the Country's best art shows, and landed at the #3 spot in USA Today's 10BEST Reader's Choice Contest for Best Art Festival.  Spanning 6 huge blocks on Main Street, from Court Street to Wardlaw Street, enjoy visual, performing, and culinary arts all weekend.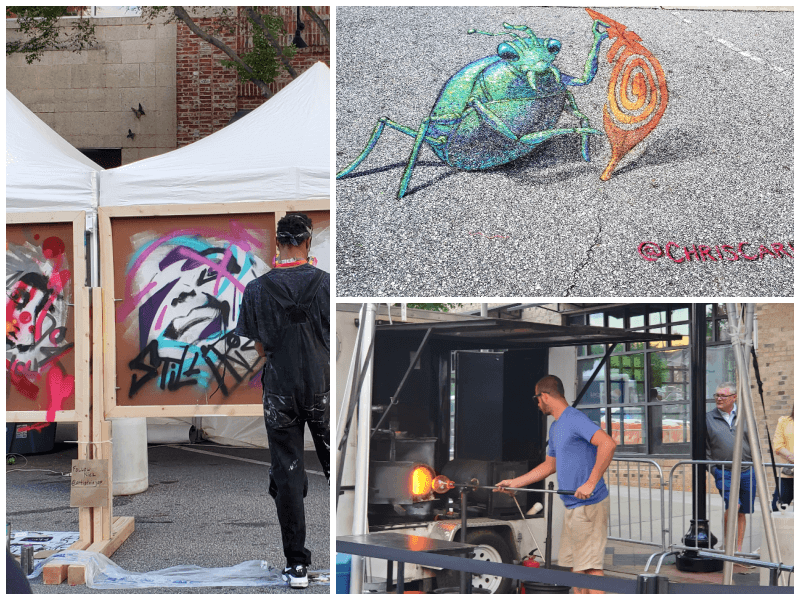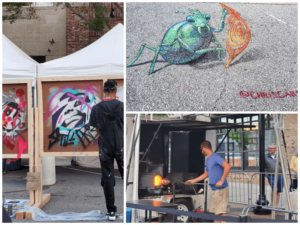 Through May 13:  Harry Clarke at the Warehouse Theatre.   One actor playing multiple roles with no big costume changes, no big sets.  Just talent and storytelling combine to bring us a mesmerizing tale.  It's old-school storytelling.  The twists and turns in this story will have you gasping in disbelief.  Harry Clarke is the story of a shy midwestern man who feels more like himself when he's adopting the persona of cocky Londoner Harry Clarke.  Moving to New York and presenting himself as an Englishman, he charms his way into a wealthy family's life and romances two family members as the seductive and sexually precocious Harry, with more on his mind than love.  With his spellbinding and emotionally nuanced storytelling, playwright David Cale has created a riveting story of a man leading an outrageous double life.  This is a play I am really looking forward to!  See you there?
May 13 – Nate Bargatze:The Be Funny Tour, coming to Greenville's Bon Secours Wellness Arena.   Nate Bargatze is a Grammy-nominated stand-up comedian from Nashville.  His comedy is both clean and relatable, which is evident in his ten appearances on "The Tonight Show Starring Jimmy Fallon" as well as his other appearances and shows.  His self-deprecating humor and laid-back delivery will keep you in stitches.
May 15 – 21
May 15 – Kenny Loggins: This Is It Tour!  His final tour in 2023, at The Peace Center.  Having sold more than 25 million albums, Kenny is more than just a "Footloose" Grammy Award-winning rock & roll legend!
May 19 – 21, the community of Saint George Greek Orthodox Cathedral will celebrate its 37th Annual Greenville Greek Festival. With plenty of music, dancing, shopping, and exploring the Saint George Greek Orthodox Cathedral you will certainly work up an appetite!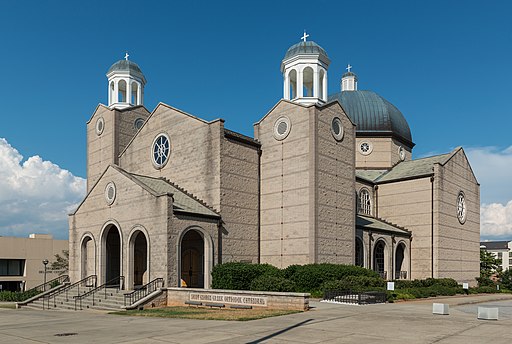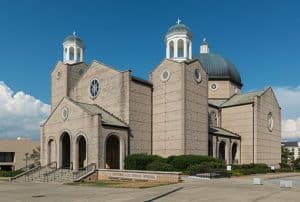 May 19 – John Mellencamp is bringing his 4 decades of talent and music to the Peace Center
May 19  The Cook Station, Book Signing event – VIETRI founder, Susan Gravely, is coming to The Cook's Station! She will be signing her new book, "Italy on a Plate" from 1:00-3:00 pm. This book is filled with recipes, pictures of Italy, and inspiration for VIETRI. If you would like to pre-order your book, please email info@thecooksstation.com. This event is open to the public and free of charge. Check out the Fiori Di Campo collection, you'll see why it's one of our favorites.
May 19 – Brew In The Zoo is your chance to explore the zoo after hours while sipping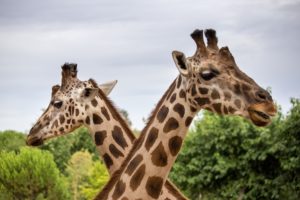 on beers from 15 different breweries.  They even have Designated Driver tickets for those who are just snacking and bringing everyone home safely.  The zoo is a ten minute walk from the B&B.  Our favorite animals include the giraffes and orangutans (Did you know that they have dreadlocks as they get older?).
May 20 – Greenville Native Peabo Bryson  and his beautifully rich voice are returning to the Peace Center.  While he has an extensive career of singing, dancing, and songwriting, the kid in me just wants to hear "A Whole New World".
May 22 – 31
Gallabrae, Greenville's Scottish Games at Furman University.  The event kicks off on Friday night, May 26th with The Great Scot! Parade down Main Street in Greenville, then continues the following day, Saturday, May 27, on the beautiful campus of Furman University.  Greenville is nestled in arguably the highest concentration of Scots-Irish descent in the country, making it the perfect place to host these games.  At this day-long event, you will experience Piping and Drumming competitions, heavy athletics, a British car show, and many other displays of Scottish heritage.  Stay after for awards and the Celtic Jam, bands, pipers, drummers, athletes, faeries, Scottish Clans and you – all jumbled together into an incredible party. Tickets to all the events of the day may be purchased online ahead of time, or at a slightly higher rate at the gate.
May 25 – June 18 weekly, Thursday – Sunday evenings in Falls Park brings back the 27th annual Upstate Shakespeare Festival.  Bring your lawn chairs, blankets, food for a picnic, and join us in the park for the first show of this annual festival, The Merry Wives of Windsor.  The show starts at 7:00, but get there early!  This free event is first come first served to find a great spot in the park.
May 25 – June 18 –  Buddy: The Buddy Holly Story Greenville's Center Stage Theatre Experience the true story of Buddy Holly's meteoric rise to fame, from "That'll Be the Day" hitting the airwaves in 1957 to "The Day the Music Died" two years later. With over a dozen of Holly's greatest hits brought to life by performers playing their own instruments, Buddy celebrates the legend who changed the face of Rock & Roll forever. Featuring Holly's "Peggy Sue," "Everyday," and "Oh Boy," plus Ritchie Valens' "La Bamba" and The Big Bopper's "Chantilly Lace."
May 23 – 28 – Jagged Little Pill  uses the songs of Alanis Morissette's album of the same name to tell the story of "a perfectly imperfect family" when all is not as it seems.   at The Peace Center.
When you decide which fun events you are going to attend, give us a call. We would love to have you stay with us!