The Upstate area of South Carolina is recognized for the natural beauty of the breathtaking parks and waterfalls.  The area is also home to many farms and orchards that provide locally grown produce, from apples to peaches to pick your own strawberries, there is an abundance of wonderful fruits and vegetables available.  The upstate farmers markets bring farmers, ranchers, and artisans within 100 miles to display their offerings for us to enjoy.  We have highlighted some of our favorites below and we look forward to seeing the treasures you find.
The TD Saturday Market is the largest farmers market in the area.  Open weekly on Saturday mornings, May through October, this market began almost twenty years ago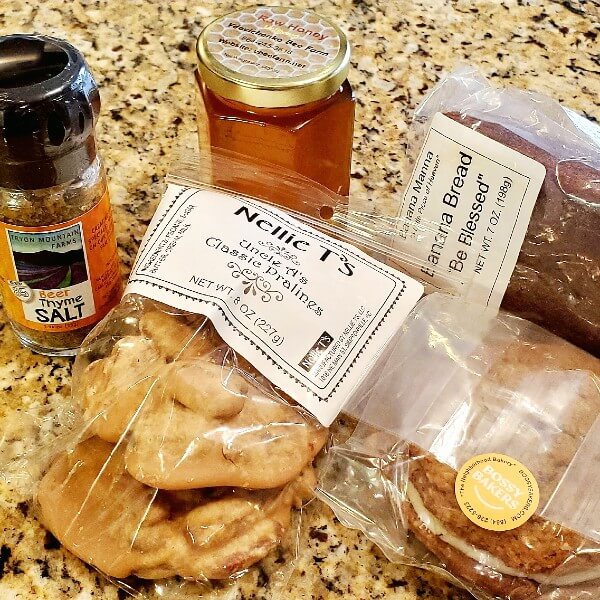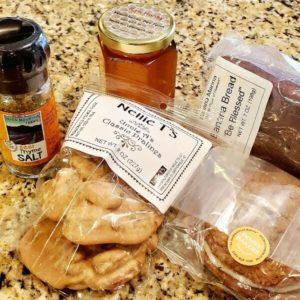 with only 20 vendors.  It now has over 75 sellers each week, spanning two blocks of Main Street.  Browse booths of local farmers, artisans, and crafters from 8:00 AM – 12:00 noon.  You'll find bright colored fruits and vegetables (the smell of those fresh strawberries is intoxicating), live plants from Henson Farms or Marble Branch Farms, sauces and dry rubs from The Great Eight, as well as soaps, honey products, and baked goods (I hit up Bossy Bakers and Banana Manna!).  I am really looking forward to using my newly purchased Beer Thyme Salt on my chicken this week!  And if you are not hungry, then visit some of the great regional artists; custom wood furniture from Ballew Woodworker, Donovan Pottery, locally made baskets from the Basket Case or stunning photographs from Blain Owen Photography. Although a popular addition in the past, live entertainment has been put on hold this year, but hopes to return as soon as the world gets back to normal.
If you feel you have seen all that the Greenville market has to offer (I don't think that's possible) you can go check out the Traveler's Rest Farmer's Market at Trailblazer Park.  They officially open at 8:30 on Saturday mornings, May through the middle of September, but encourage everyone to come early.  This market boasts over 70 vendors which include farmers selling meat, poultry, vegetables, fruit, honey, and farm fresh eggs.  A couple favorites are Skyland Farms, if you're looking for pasture raised meats, and Harp & Shamrock Croft, if you are looking for a little bit of everything!  This market also includes local artists and craftsman, like Fiddlestix Woodwerks, and a whole group of vendors they call "Added Value Vendors", a little something extra to the regular line-up of farmers market stalls, because, you never know what will be calling out to you! (Cucina Del Borgo – I'm coming for you and your freshly made pastas and sauces!)  The Traveler's Rest Farmers Market also has fun weekly events such as, community outdoor (and currently distanced) yoga, and live music, but also scheduled events like a kids bike parade on July 3rd.  My FAVORITE though, is the Tomato Sandwich Taste-Off on July 24th, where, for $10.00 you get the opportunity to taste and vote for your favorite tomato sandwich creation, as eight local restaurants compete for the coveted "Big Tomato" title.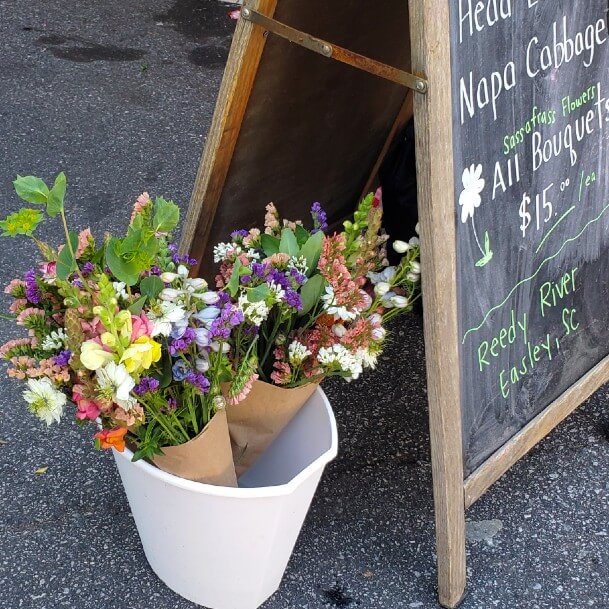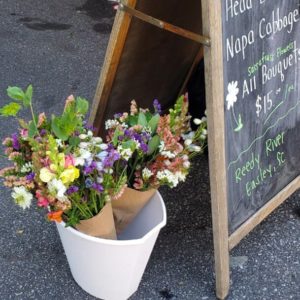 What?  You're visiting Greenville during the week, not on Saturday?  No problem!  The City of Greer has "Tuesdays In Town",  an evening Farmers market at Greer City Park, Tuesdays from 4:30 – 7:30 PM. Featuring local Farmers, Makers, and Bakers, they offer seasonal produce, meats, cheeses, and lots of tasty fun treats from Sweet Bites of Italy,  and specialty items, like collars for your pampered pooch from Livy & Co Dog Boutique.  Each week they feature live music, food trucks, kids' activities, and either a chef demo or culinary contest.    July 20th will be the peach cook off and I cannot wait!
Supporting local families and making an effort to eat seasonal produce are both admirable goals that are made easy when visiting any of these great locations.  Just be sure to show us what you bought, and most importantly, what you tasted!  We can't wait to see what you found!