Is it time for you to  "stop and smell the roses"?  Greenville and the surrounding areas have temperate conditions conducive to growing all number of flowers and foliage.  You can find gardens to help the bees, gardens that specialize in a specific flower, gardens to sit or reflect and relax, or gardens with an emphasis on sustainability.    The list of tour-able gardens is extensive!  I have tried to narrow it down with highlights of some of our favorites.
Since we are downtown, we should talk first about the public gardens right around the corner.  The Falls Park is 32 acres of shaded walkways, flowerbeds, trees, art, and of course the Liberty Bridge over Reedy River Falls.  The trail is home to mini-gardens and hidden gems.  One of our favorite gems is the Medusa tree.  It is one of the last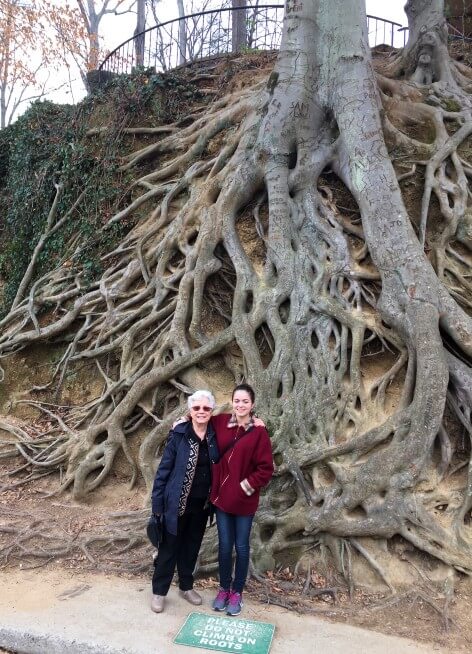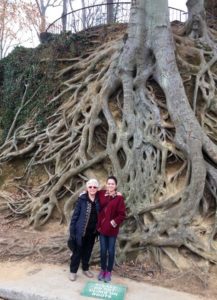 remaining Beech trees from the Arboretum established in 1929.  It is a fan favorite for picture taking.  The Greenville Gardening Clubs are responsible for so much of the beautification of Greenville and its dedication to green space it's only fitting that they have their own little area in the park.  The Carolina Foothills Garden Club Sanctuary is tucked behind the amphitheater. It's a secluded garden including a small waterfall and a rock staircase as well as a spring house that dates back to The Arboretum's beginning.  If you walk over the stone pedestrian bridge you will be led to Pedrick's Garden with its emphasis on Sunflowers (the namesake's favorite) and has art work designed by Dale Chihuly, "Rose Crystal Tower".  Farther down the Swamp Rabbit Trail you will find the Rock Quarry Garden, a pre-civil war era granite quarry turned award winning park with a stone bridge, waterfall, flowerbeds, and the home of many marriage proposals (some of our guests!).
While not part of Fall's Park, we cannot discuss downtown gardens without talking about the Kilgore-Lewis House and Gardens. Built in 1838 it has ballroom featuring a beautiful parquet floor. You are welcome to tour the gardens, creek, pond, and see another spring house that is still active and bubbling at one of Greenville's oldest structures.  You can tour the inside of the house during set hours.
The Upstate colleges have their share of gardens as well, the largest (295 acres!) being the South Carolina Botanical Gardens near Clemson University.  The grounds are open 365 days a year for visitors to follow the many trails leading to a variety of gardens, streams, artwork, and historical buildings.  If you need a break from the elements you could step inside The Bob Campbell Geology Museum to see rocks, minerals, fossils, and the only "he only saber-toothed cat exhibit in the Southeast"!   Furman University has plenty to offer the garden tourist.  Named one of the "30 Most Beautiful Campuses" for its miles of trails, lake, Arboretum, and multiple gardens.  Janie Earle Furman Rose Garden, wildflower & pollinator garden, an ethnobotany garden with dye and fiber plants, and the Asia garden.  The Asia garden has an original Japanese temple called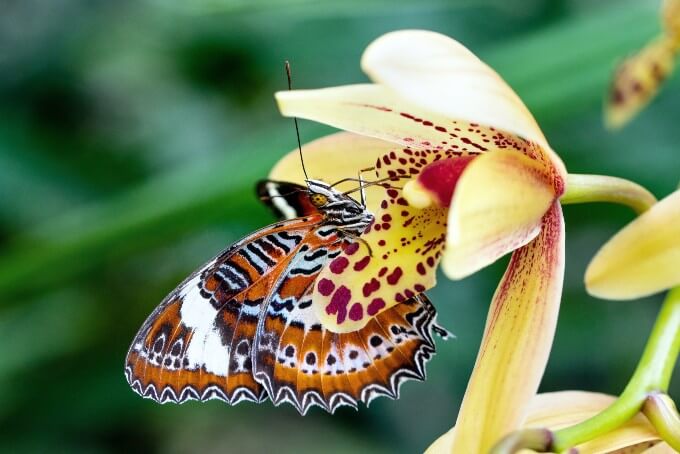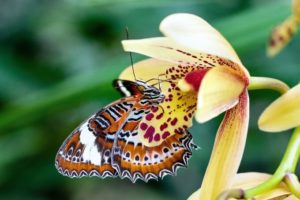 Place of Peace, that was dismantled and rebuilt on the Furman campus in 2004. While not a college campus the Roper Mountain Science Center is a beautiful educational property to spend wandering their butterfly garden.  Designed and maintained with the help of the Greater Greenville Master Gardeners this butterfly garden is dedicated to hosting over 25 species of "flying flowers" throughout the year.
Hatcher Garden & Woodland Preserve in Spartanburg is a hobby that blossomed (pun intended!) into 12-acre space dedicated to preserving nature, educating all ages, and finding peace with nature.  With trails leading to all nine gardens of varying emphasis you can sit under the trees, watch the local wildlife, and walk the covered bridge over a waterfall.
The Upstate of SC has no shortage of natural beauty and the dedication and time by the countless gardeners has only improved on the accessibility of these natural resources.  Go outside, enjoy the sights and get some ideas for your own garden.  Once you've decided how to spend your day, you should save time for lunch at Upcountry Provisions.  Fresh baked breads and pastries, hormone free meats and cheeses, and located just off the Swamp Rabbit Trail in Travelers Rest you can sit at a table in their cultivated butterfly garden and enjoy your meal or treat.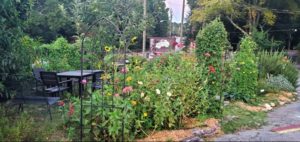 Be sure to let us know which gardens you explore and what treasures you found!
Bonus* While already having ended for the 2021 season Bullington Gardens in Hendersonville features a Fairy trail from June through August.  Who wouldn't want to walk the trail looking for the tiny villages and homes of the woods most secret inhabitants?
Follow the link below to start planning your next visit.