The City of Greenville is ready to spend the whole month of December celebrating the holidays with fun of all kinds; art, music, decorations, shopping, puppets (?!?), ice skating, and more.
Main street and the downtown area are putting out their best this year.  The Tree Lighting with over 25,000 LED lights will be held on December 3rd followed by the Poinsettia Christmas Parade on the 4th.  Any time you are downtown, check out the Window Wonderland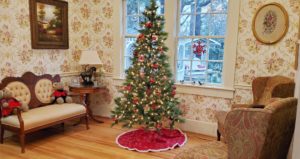 contest, giving you the chance to vote on the best Christmas window displays from participating vendors.  Local schools and nonprofits have large holiday post cards decorating the area plazas.  And of course, you have to stop and see the Festival of Trees located in the Hyatt Regency.  While you're there, make sure to stop by Kilwin's for their peanut butter filled ritz crackers dipped in chocolate.  Don't forget the hot chocolate to wash them down!  Need to exert a little energy, perhaps after one too many egg nogs?  Come skate with us at Ice On Main!
If you're interested in seeing classic art work, visit the Upstate History Museum, which will be featuring Norman Rockwell's Home for the Holidays collection.  Now, if creating art is more your style, Make Made Jewelry is having two classes for you to try your hand at working with copper.  There, you can learn to make jingle bells using metal stamps on December 11th, or learn the art of "fold forming" as you hammer, fold, and texture three tree ornaments on the 18th.
Greenville will have no shortage of musical events this December, a little something for everyone!  Keeping it local, visit Fire Forge Brewery for their annual "Ugly Christmas Sweater" party on December 17th, featuring music by Red Bank Road.  They will be collecting clothing donations for Safe Harbor at this show.  Fire Forge is also hosting Brian Ashley Jones for a live performance on Christmas Eve.  If you are looking for more traditional Christmas (with a few promised surprises!), get your tickets early to the ever-popular Greenville Symphony Orchestra's annual Holiday At Peace.  There will be three performances on December 17, 18, & 19, on the mainstage at the Peace Center.   On December 3rd, The Bob Jones University Symphonic Wind Band, with the Concert Choir and University Singers, promise to bring the classic Christmas carols to life.  On December 7th, the Greenville Chorale will be hosted at Furman University's McAlister Auditorium, with a rousing performance of Handel's Messiah.  In what is becoming a Christmas tradition in Greenville, gospel greats, Gaither Vocal Band will be at the Bon Secours Arena on December 4th with a mix of holiday standards and even some new Christmas music, all shining a light on the birth of Christ.  For a fun mix of music and entertainment you can check out Michael W. Smith and Darci Lynne (and her puppets) on the 15th.  If this isn't the kind of music you are looking for, maybe head to Centre Stage for "The Final Countdown", a holiday rock show.  Go even brighter and louder with Trans-Siberian Orchestra at the Bon Secours Arena on December 10th.
Of course, no Christmas season is complete without the Nutcracker – so Greenville is planning two versions!  The International Ballet will be performing the classic story from E.T.A. Hoffman at the Peace Center, while the Carolina Ballet Theater presents their reimagined version, The Nutcracker: Once Upon a Time in Greenville, dancing through sets depicting historic Greenville landmarks, on stage at the Peace Center.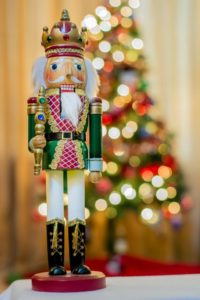 Looking for a little less pointe, a little more comedy? The Greenville Theatre has you covered with multiple performances December 2 – 19, with Elf the Musical, the contemporary classic that is sure to bring on maple syrup smiles!   But wait!  There's more!  Have you heard of Cirque Dreams Holidaze?  Imagine acrobats, jugglers, holiday cheer, and 300 different costumes in a larger-than-life Broadway style production of a child's holiday dream.  Holidaze will be playing at the Peace Center December 22 – 23.  For a little unorthodox holiday cheer check out Covid: The Musical– a comedic musical by Cafe & Then Some, sure to make you laugh.
Tis the season for Holiday Fairs, so we can't forget to talk about the shopping options in December.  The Holiday Fair on December 2, 3, and 4, will be at the TD Convention Center, offering over 225,000 square feet of seasonal offerings from artisans near and far.   The 2021 Holiday Pop-up, hosted by the Artists Guild Gallery in the Atrium on Main St., where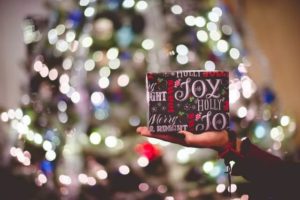 you will have time to browse local artisans and crafters, as well as the Gallery's pieces.  The TD Saturday Market will return to Main Street for two Saturdays, the 4th and 12th this December, to help you get stocked up on local cheeses, pastas, and seasonings, among other things, to get you through this busy season of entertaining and gift giving.  Trailblazer Park in Traveler's Rest is hosting a Very Merry Local Christmas Market on December 11.  There you will find potters, quilters, blacksmith, plenty of food, and a visit from the big man in red, himself!  The Kringle Holiday Village is a 2-day affair December 11-12, at Fluor Field, featuring a European-style market with artists, food purveyors, jugglers, rides, and even a biergarten.
I would think all of these are bound to coax you into the Christmas spirit, but if you are looking for ways to step away from the sleigh bells and mistletoe, we have a few ideas for you, too.  The Bon Secours Wellness Arena will feature Nelly on December 3rd and Eric Church on December 17th.  The monthly First Friday Art Gallery Crawl will be on the December3rd.  The SC Children's Theatre is bringing you Annie, or the Warehouse Theater will present Sense & Sensibility. The Upstate History Museum has several exhibits, including War Dogs, with life size sculptures depicting the heroism of these furry warriors from WWII to present, and Uncovered: The Ken Burns Collection, bringing a beautiful collection from the documentarian's own collection of quilts, telling the story of history, beauty and science behind the art of quilting.  And, as usual, there are plenty of opportunities for wine tastings, architecture and history tours, and general sightseeing of this beautiful region, that won't stop just because we are all singing Jingle Bells!
Hopefully you can find time in this busy season to come visit us and enjoy these festive  Greenville traditions, new and old.