Popsicles aren't the only thing melting in the upstate this summer.  Greenville and the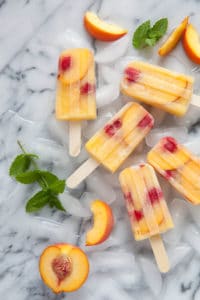 surrounding areas are HOT!   Not to worry, there are plenty of ways to stay cool inside and out.
You can expand your mind (and take advantage of the air conditioning) by visiting any number of museums in the area.  The newly renovated Sigal Music Museum features instruments from renowned musicians and composers from the last 500 years.  You will also find sheet music, reference books, and more than 1000 rare record albums!  The Upstate History Museum features more than just information about the area's history with textiles, although there is plenty of that.  You can learn about all facets of the area including the geography of the region, the contributions of the military, the effects of the wars fought locally and abroad as well as multiple changing exhibits.  This summer is featuring Vietnam: The Real War Photographs from the Associated Press, Pointes, Pirouettes and Pliés, and Dinosaurs: Land of Fire and Ice.  Art more you thing?  The Greenville County Museum of Art is the world's largest public collection of watercolors by Andrew Wyeth.  One of the most popular emphases at the museum is their dedication to the south as portraited in art by various artists over the years.  Care to visit "Clemson's Oldest Tiger"?  "Smiley", a Saber Tooth Tiger skeleton is waiting for you at the Bob Campbell Geological Museum on the Clemson campus.  Along with full T-rex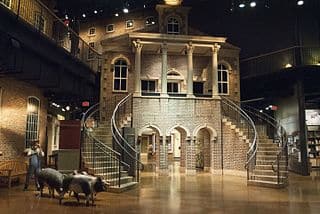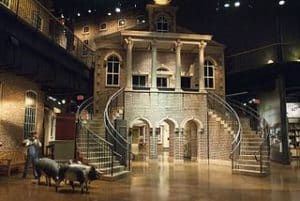 head you will find over 10,000 rocks, minerals (some glowing under florescent lights), and fossils, not to mention the Benson Gem Collection.  The museum features special changing exhibits throughout the year, who knows what they will "dig-up" next! Roper Mountain Science Center has plenty of exhibits but one of the favorites is the "Laser days of Summer", a 40-minute laser show set to some of the biggest names in music like Pink Floyd & Prince and some movie soundtracks as well.
Does your day off involve a little bit more play time?  Then I have one more museum to suggest, The Upstate Pinball & Arcade Museum!  For $10 you can play all afternoon on well-maintained vintage pinball machines and arcade games.  Located at The Warehouse at Vaughn's you have plenty of places to eat and do some shopping while you're there.  As long as you're not afraid of confined spaces you can check out Breakout Games or Escape Rooms Greenville.  Test your sleuthing skills to get out of one of their many escape rooms. A little ice skating at the Pavilion should keep your heart pumping while staying cool.  Honestly, it's been a rough few years, you may need a little Group Therapy.  With an indoor mini golf course, ping pong, axe throwing and a myriad of backyard games you can enjoy the a/c along with a few specialty cocktails, beers, and munchies to share.
The Upstate also has plenty to see from the comfort of your car.  Join the Greenville History or Culinary driving tours to get a taste and feel for the area from the comfort of a 10-passenger high roofed van.  With the use of digital photos as you travel through downtown you can see what once was before the revitalization of Greenville.  Follow the Upstate Heritage Quilt Trail through Anderson, Pickens, or Oconee Counties to see quilts as an art form and as the story telling tools they are.  Some are inside city and state buildings while others are painted on to the sides of barns. There is even an interactive map to help guild you and tell you a little about what you are seeing.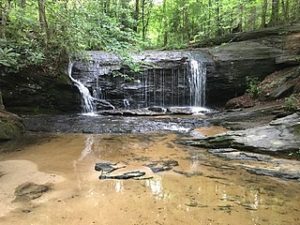 Maybe you like the idea of being outside, just not in the heat.  The Stumphouse Tunnel, located in the City of Walhalla's Stumphouse Park.  This unfinished pre-civil war tunnel is a constant 50 degrees and was used by Clemson University to cure blue cheese.  Issaqueena Falls is a located nearby with easy parking to view from an observation deck.  There are a number of easy walk- or drive-up waterfalls from Greenville like Wildcat Branch Falls off the Cherokee Scenic Highway.  Some even offer the opportunity to splash around in the cool water. Jocassee Lake Tours offer sunset tours to view hidden gems of the lake from a tour boat.  Lake Jocassee has so many reasons to visit, bird watching, geocaching, and even scuba diving!  Jocassee is fed from multiple mountain streams making it cooler and clearer than many other lakes in the area perfect for a cool swim.
You could eat a gourmet breakfast at Pettigru Place, enjoy a cool morning, and then head back to bed for a nap in the hottest parts of the day before going out to take advantage of Greenville's night life.  Broadway Plays at the Peace Center, exciting concerts at the Bon Securs Arena, musicals at the Greenville Theater and Centre Stage, or a little comedy at Cafe and Then Some.
Don't let the summer sun dissuade you from visiting, Greenville has plenty of ways for you to relax, play, and explore anytime of year.  Give us a call and we will help you book your next visit.